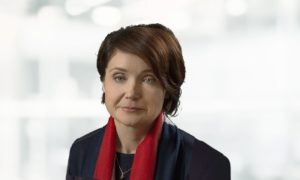 Ewa Podgórska graduated from the Law Faculty of Warsaw University, and brings her legal counsel expertise to the board, specialising in international investments and business transactions, real estate and commercial law. 
Ewa is currently associated with Griffin Real Estate Sp. z o.o (Griffen) as partner, co-general counsel and compliance officer. Registered in Warsaw, Poland, Griffin is the largest and most active investment manager in private equity real estate in Central and Eastern Europe. 
Previous experience
Ewa started her professional career as an attorney at Soltysinski Kawecki & Szlęzak, a Warsaw-based law firm, before taking on the role of head of legal at Domy Towarowe "Centrum" SA.
From April 2010 to December 2017, Ewa acted as legal counsel of the Eastbridge Group (Eastbridge) as part of top management. In Poland, Eastbridge's investments included Empik Media & Fashion (EMF), Empik, Smyk, and Centrum Development and Investments (CDI). Ewa was responsible for coordinating legal services in all countries and all the legal affairs of Eastbridge. 
Ewa also served as a member of the Supervisory Board of Kredyt Inkaso S.A., Grupa Ex-Origo Upos S.A. and EMF.